The Apraxia RainbowBee app is a multi-step, multi-modality program with colorful graphic, photo, audio, and video targets and fun engaging games. The program is designed to help enhance motor planning for children with an apraxic component that impacts their speech production.
The Apraxia RainbowBee app gives therapists the flexibility not only to choose between three levels of complexity but also to manipulate the prompting of visual, auditory, tactile, and lexical stimuli presented to the child. The therapists are also able to choose their targets and the amount of stimulus trials at each level. In addition to using hundreds of photos and video recordings included in this app, the therapists can add their own images and record their own videos, making speech therapy more individualized.
The Apraxia RainbowBee includes flashcards and two fun Games:
A puzzle game played as a reward with flashcards
A fun animated board game
This dynamic app embraces the principals of motor planning and works by starting with the CV and VC syllable level and then moving to CVC words, 2 syllable words, 3 syllable words, and finally the expanding sentence level.
"Differentiating CAS from other causes of articulatory disorder is the observation that errors are more frequent with increasing phonetic complexity and increasing length of the word or utterance. If the word contains phonemes such as sibilants or affricates articulatory errors will increase. Increasing the length of utterance will also have substantial effect on articulatory accuracy."

(Yorkston, Beukelman, Strand, and Hakel, 2010)
"... Motor learning happens through experience and that experience takes practice. This implies therapy "drills," a concept dreaded by both children and clinicians. To improve motor skill in these children, the clinician must elicit hundreds of utterances per session; however, this need not be drudgery. Sessions can be fast moving, interesting, and even fun for the child. More important, when children start having success with the movement patterns, they easily become even more engage in the drill work."

(Yorkston, Beukelman, Strand, and Hakel, 2010)
References
Management of Motor Speech Disorders in Children and Adults Third (3rd) Edition .Kathryn M. Yorkston, David R. Beukelman, Edythe A. Strand, Mark Hakel
Author: Karin Howard M.A., CCC-SLP
Developed by: Virtual Speech Center, Inc.
I also really like the fact that in addition to hearing the presented syllables, words and phrases you can play a brief video for the child which shows the actual mouth production of the presented stimulus items.Smart Speech Therapy
I feel like this app encompasses everything necessary to work on apraxia with our early childhood and early elementary aged students. I'm very impressed.The IMums
What I like about this app: easy set up, based off of research, flexibility the app offers in addressing childhood apraxia. Appabled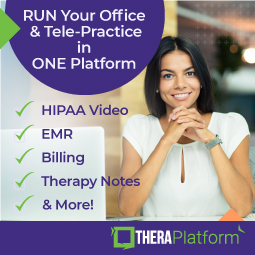 TheraPlatform - Speech Therapy Software
TheraPlatform is the best in class HIPAA-compliant practice management and teletherapy software designed for speech and language therapists. Our software includes therapy notes, billing, client portal, e-claim submission and telepractice.