The Prepositions Journey app was developed by a certified speech and language pathologist to aid practice with early/common prepositions. Children will have fun practicing prepositions with three animals who appear in three different colorful, animated scenes: camping, island, and city.
The Prepositions Journey app includes:
Receptive tasks
Children identify animals in different locations on the scene, for example, "Show me the bunny in the basket."
Expressive tasks
Children verbally respond to "where" questions, for example, "Where is the bunny?"
Prepositions covered by this app includes:
In, on , under, next to, in front of, behind, in the back, between, above, below, beside, in the middle, outside, out, over, near, far, on the side, on the left, on the right
Are you looking for more ways to work on prepositions or answering "where" questions?! Then, this app by Virtual Speech Center is for you!Speech Time Fun
I liked everything about this app! My students were engaged with the activities, and it targets all of the prepositions that I need an app to target! I really like that you can target the prepositions either expressively or receptively. The pictures that are used in the expressive activity are clear, and my students enjoyed creating sentences to describe the pictures. This is a great addition to my other activities that I use with my students to target prepositions.Speech Universe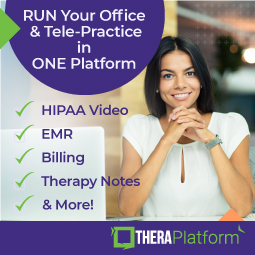 TheraPlatform - Speech Therapy Software
TheraPlatform is the best in class HIPAA-compliant practice management and teletherapy software designed for speech and language therapists. Our software includes therapy notes, billing, client portal, e-claim submission and telepractice.