The Auditory Reasoning app was created by a certified speech and language pathologist for students, ages 6 and up with central auditory processing disorder (CAPD) or other related disorders (e.g., receptive language disorder or autism), to improve auditory processing requiring reasoning and high-level thinking. All the tasks are presented orally so the students can work solely on their auditory skills and processing.
The app's theme is fun, colorful and cosmic. A reward system in the form of a game will motivate students to practice their auditory skills in the following activities:
Identifying which one does not belong
Associations
Completing the series
Identifying true vs. false statements
Identifying facts vs. opinions
Auditory resequencing
Identifying meanings of words in context
Analogies
Riddles
Paraphrasing short paragraphs
Drawing conclusions based on short paragraphs
All of these tasks can be practiced in the presence of background noise that can be set up in the app's settings.
The Auditory Reasoning app is easy to navigate and allows users to employ several tools to perform the following tasks:
Enter multiple students.
Change settings and use randomization.
Select alternate counts for multiple students.
Select different types of background noise.
Track correct and incorrect responses.
Email and print results at the end of the session.
Research is still needed in the area of central auditory processing disorder; however, most individuals will benefit from procedures that target the acoustic signal and from procedures that target language. Comprehensive evaluation and a multidisciplinary approach are important aspects of the treatment of individuals with central auditory processing disorder (ASHA 2005).
---
Other apps developed by Virtual Speech Center for central auditory processing disorder include Auditory Workout, Auditory Processing Studio, Auditory Memory Ride and School of Multi-Step Directions.
Resources:
American Speech-Language-Hearing Association. (2005). (Central) auditory processing disorder [Technical Report]. Available from www.asha.org/policy.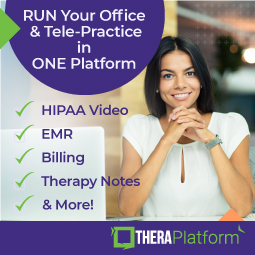 TheraPlatform - Speech Therapy Software
TheraPlatform is the best in class HIPAA-compliant practice management and teletherapy software designed for speech and language therapists. Our software includes therapy notes, billing, client portal, e-claim submission and telepractice.