The Questions Hunt app was developed by a certified speech and language pathologist for children to practice answering yes/no questions and WH questions (what, where, who, when, why and how).
Children will practice answering questions related to different themes by searching for question marks hidden in beautifully designed, colorful and animated scenes, such as beaches, parks, stores, campgrounds, airports and schools.
The Questions Hunt app includes both receptive and expressive tasks that integrate 60 yes/no questions and 360 WH questions. In receptive tasks, children listen to questions and answer multiple choice questions by tapping an answer choice. In expressive tasks, children answer questions verbally.
The app is easy to navigate and allows users to employ several tools to perform the following tasks:
Enter multiple students.
Change settings.
Save selected goals for next sessions.
Use the audio recording feature.
Track correct and incorrect responses.
Email and print results at the end of the session.
I love that there is a wide range of questions available- with both a receptive and expressive option. I have used this app for both practice on answering questions as well as an assessment tool to see progress with answering different types of questions. The graphics are colorful and inviting and price is very fair. If you are looking for a new fun way to target answering questions, I would absolutely recommend this app!Simply Speech
What I do love about this app is that questions have to do with a theme and character selected , curriculum /thematic vocabulary and the fact that you can add background noise. The hunt for the characters is so fun and there are so many activities that you can never get bored.
I like the bright and engaging thematically based illustrations. I really like the fact that I can use the app to target multiple goals including: auditory memory, listening comprehension, sentence formulation, vocabulary knowledge and use, and critical thinking and verbal reasoning.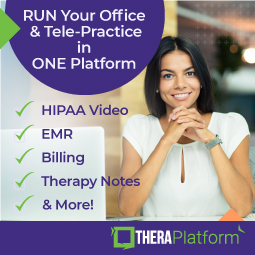 TheraPlatform - Speech Therapy Software
TheraPlatform is the best in class HIPAA-compliant practice management and teletherapy software designed for speech and language therapists. Our software includes therapy notes, billing, client portal, e-claim submission and telepractice.