Word Retrieval was created by a certified speech and language pathologist for children and adults with word-finding difficulties. Word Retrieval was built around research on remediation of word retrieval difficulties to help children and adults organize their lexicons through activities including confrontational naming, associations, and divergent and convergent naming to improve their abilities to access already known words and increase their retrieval of words.
Word Retrieval can be used for individuals with:
Aphasia
Specific language disorder
Learning disorders
Cognitive deficits leading to word finding difficulties
Autism
Central Auditory Processing Disorder
Word Retrieval includes 7 different activity types. (Each activity offers 80 trials, organized into four sets):
Name this Picture
Sentence Completion (e.g. I eat soup with a…)
Opposite Meanings (e.g. What's the opposite of the word "open"?)
Convergent Naming (This is an animal that has fur and four legs and is used to catch mice.)
Divergent Naming (Name five musical instruments.)
Associations (What things go with a house?)
Definitions (Define the word "lake.")
Word Retrieval offers two activity types: Flashcards and the Word- Challenge Game. In the Flashcard activity, children or adults are presented with a picture or other verbal task (such as a sentence completion task). In the Word Challenge Game, children or adults practice these tasks in more fun way by playing the "Game of Challenge."
Word Retrieval is easy to navigate and employs several tools to allow users to perform the following tasks:
Enter multiple students or patients
Change settings
Save selected goals for future sessions
Select alternate counts for multiple students or patients
Enable or disable written descriptions
Use the audio recording feature
Track correct and incorrect responses
View reports in table form
E-mail results at the end of the game
Virtual Speech Center has just released their newest app, Word Retrieval! This company has been on a major roll on pushing out these amazing apps targeting common skills that can be difficult or unmotivating to address!Speech Time Fun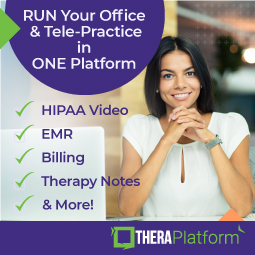 TheraPlatform - Speech Therapy Software
TheraPlatform is the best in class HIPAA-compliant practice management and teletherapy software designed for speech and language therapists. Our software includes therapy notes, billing, client portal, e-claim submission and telepractice.