The Describe with Art app was created by a certified speech and language pathologist for preschool and elementary school-age children who struggle with verbally describing or following directions containing descriptive vocabulary.
Describing is a common objective in academics. Young children are asked to describe objects or experiences in preschool, and older children might be asked to describe procedures, characters, a story, etc. In addition to verbally describing, children consistently follow directions containing multiple descriptors at school, e.g., "Circle the big red circle in the left corner." Children with language disorders or delays may have difficulty formulating correct descriptions to give correct pictures of what the children are trying to describe and may have difficulty following longer directions at school. Children who exhibit language disorders often name the object they are asked to describe but struggle to elaborate and to organize their thought process.
The purpose of the Describe with Art app is to teach children how to describe things surrounding them and help them follow directions with descriptors in a fun and motivating way. Children are welcomed by the painter, who encourages them to work hard. Children earn a paint palette for each correct response, and when they accumulate enough points, they can paint their own picture.
Describe with Art includes:
Receptive task- Following Directions (Multiple sets with pre-recorded directions). Children can also give directions to the other users using descriptive vocabulary with the audio feature off.
Expressive task- Describe It (Multiple categories: people, animals, objects, food, clothes, places, and transportation)
The Describe with Art app is easy to navigate, and users can perform the following tasks:
Enter multiple students
Change settings and use randomization
Select auto-scoring
Select alternate counts for multiple students
Track correct and incorrect responses
E-mail results at the end of the session
Describe with Art is a great app. It is easy to set up and navigate. The app can be used in a one-on-one setting or in a group. It has activities to target both receptive and expressive descriptions. I really liked how the students cannot select an answer until the question is done being read on the receptive activity. Also, the clues on the expressive portion are very straight forward. M. Wilson (SLP and blogger)
I like the receptive and the expressive components of this app. This not only increases the versatility of the app, but also increases your ability to use the app with mixed groups of students. The question prompts in the "Describe It" activity are great for students who have difficulty formulating sentences/describing pictures on their own. I like built-in reinforcement and data collection. The painting activity is fun and motivating for students, and who doesn't love data collection! Carries Speech Corner (SLP and blogger)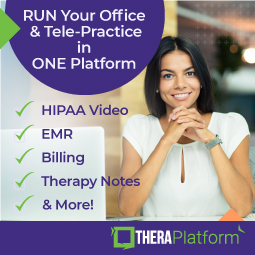 TheraPlatform - Speech Therapy Software
TheraPlatform is the best in class HIPAA-compliant practice management and teletherapy software designed for speech and language therapists. Our software includes therapy notes, billing, client portal, e-claim submission and telepractice.